Goju Ryu Karate is the best thing you can do for your child!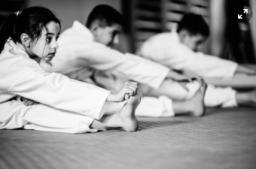 Kids' Goju-Ryu Karate classes are our specialty. It is one of the most popular kids' martial arts programs at IMAA (International Martial Arts Academy) where we have specialty kids' classes on offer twice a week. Your child will enjoy a fantastic, fun-filled class with others their own age, while developing strong bodies and character. Our Karate for kids' classes helps children build confidence.
Children these days have a much more gadget filled life than we probably did at their age. In fact, children sitting hunched over a videogame or listening to the latest pop songs on their iPod is not an uncommon sight. If you too are a parent who feels that it is time your child made better use of their free time, then we have the answer. IMAA Goju-Ryu Karate classes for kids offers a few classes in children's martial arts which promise to be fun and challenging for young minds, while learning good habits for a lifetime.
Physical Benefits of Karate
Fitness
Flexibility
Balance
Coordination
Agility
Self-defense skills
Mental Benefits of Karate
Focus
Self-discipline
Confidence
Self esteem
Courtesy
Determination
Commitment
Respect
Our "karate kids" are often more excited about going to school in the morning when they know they are coming to a class with us at the end of the day.
Our Children's Martial Arts Classes develop life skills, confidence, and self-defense!
At IMAA, we understand that each child learns at a pace that is different and unique from that of another child. That is why our children's martial arts classes are held separately for beginners and for kids with prior experience. So, no worries about your child:
Struggling to follow the instructions.
Or feeling left behind!
With children's martial arts classes, your child will experience several benefits such as:
Develop more self-confidence (a winner for life!)
Develop better self-esteem.
Learn several self-defense skills (Bullies, beware!)
Develop better body coordination and flexibility.
Have a more alert mind (better grades of course!)
Develop better concentration at school.
Learn how to respect elders (fewer tantrums!)
Learn how to listen to instructions.
Your child will not be a shy introvert who prefers to be left alone, anymore. Instead, you will find that your child blossoms into a confident and brave child who is eager to learn!
Karate Classes in Brackenfell at International Martial Arts Academy are Split by Age & Experience
Age-appropriate karate classes provide the right amount of fun, focus and challenge. IMAA Goju-Ryu Karate Kids are always excited for more. Our youngest karate students start at age four and progress based on age and experience.
We also have special beginners' karate classes. These allow your child to feel comfortable at any starting age, while training with other kids who are new to karate, just like them.
How Can You Enhance Your Child's Karate Learning Experience?
The earlier you start sending your children to regular lessons at a Martial Arts Academy, like ours in Brackenfell, the faster they will catch on with the Okinawan techniques of Goju-Ryu Karate. Nevertheless, most of our students can demonstrate key stances and moves they have learnt within the first 3 weeks of attendance. Also, a good time of age to enroll is 4 years and above.
For children, karate usually has a 'levelling effect' on a child's nature. An aggressive child will become more tolerant, yet still retain their great spirit, whereas a very subdued child will become more self-protective and outgoing. More importantly, each child develops an understanding of children with opposite natures to themselves, and thus can handle them appropriately with confidence.
Karate will promote physical development in areas such as coordination, agility, strength, flexibility, and endurance. The International Martial Arts Academy in Brackenfell has a philosophy of promoting preventative self-defense, which is underpinned by our training methods.
Instructors Qualified to Teach Kids Karate
We are lucky to have Sensei Monique Morrison-Hagen leading the practice and keeping standards high at IMAA. She is also humble, easy going and approachable. Sensei Monique fosters a positive relationship with parents as well as students.
Articles related to your search: