Hassle-Free Birthday Parties at Indoor Play Centers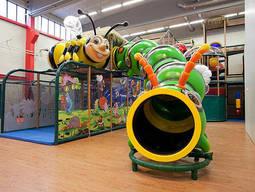 Planning a birthday party for your child is an adventure filled with excitement and joy. To ensure a stress-free journey, choosing one of South Africa's top-notch indoor play centers as your party destination is a brilliant choice. In this comprehensive guide, we'll provide you with essential tips and insights on how to throw an unforgettable and stress-free birthday celebration for your child at one of South Africa's Indoor Play Centers.
1. Early Planning is Key
To ensure a successful birthday party at a South African indoor play center, early planning is essential. Start the planning process several months in advance to secure your preferred date and time, especially during busy party seasons. A proactive approach to selecting the perfect date for your child's special day is key to success.
2. Picking the Perfect Play Center
The first crucial step is choosing the right indoor play center in South Africa. There's a plethora of options available, so look for a venue offering age-appropriate activities, a safe and clean environment, and facilities catering to both parents and children. Many indoor play centers in South Africa offer customized party packages to simplify your planning.
3. Communication with Parents
Effective communication with parents is essential when planning a kids' birthday party in South Africa. Ensure parents know the indoor play center's location, any specific requirements like socks for kids or adults, and the approximate party end time. Additionally, inquire about allergies or special needs to ensure an inclusive and safe environment for all attendees.
4. Invitations and RSVPs
To guarantee a successful turnout, send out invitations to your child's friends well in advance. Consider digital invitations for convenience and eco-friendliness. Provide all necessary details, such as the date, time, location, and specific party instructions or themes. Don't forget to request RSVPs from the invitees to streamline your planning.
5. Entertainment and Exciting Activities
While indoor play centers are designed to keep children entertained for hours, you can elevate the experience by including extra activities or entertainment. Consider hiring a clown, magician, or face painter to add an extra layer of excitement to the party. Some South African play centers may offer special attractions like mini-golf, laser tag, or arcade games that can be part of your party package.
6. Food and Catering Options
One of the major advantages of hosting a birthday party at an indoor play center in South Africa is the availability of catering options. This significantly simplifies your party preparations. Check with the play center for their menu options and any dietary considerations. Most indoor play centers provide kid-friendly options such as pizza, chicken nuggets, and fruit platters.
7. Thoughtful Party Favors
Party favors are an excellent way to express gratitude to your child's friends for attending the party. Keep it simple with small items like stickers, coloring books, or themed toys. Party favors serve as a token of appreciation and a fun memento for your child's guests to take home, creating smiles all around.
8. Enchanting Party Themes
Kids love themed parties, so opt for a theme that resonates with your child's interests, whether it's superheroes, princesses, animals, or a beloved movie character. A well-thought-out theme can set the tone for the entire celebration, and coordinating decorations, party favors, and even costumes can add a magical touch to the party.
9. Capturing Priceless Moments
Don't forget to capture those priceless moments. Take numerous photographs and even contemplate hiring a professional photographer for high-quality shots. These photos will become cherished memories for both you and your child, which you can share with the guests and their parents as well.
10. Enjoy the Celebration to the Fullest
Lastly, remember to savor the day! Your child's birthday is a unique occasion, and the most important thing is to celebrate, have fun, and create lasting memories. Let the indoor play center staff handle the logistics while you focus on making your child feel like the star of the show.
In conclusion, hosting your child's birthday party at an indoor play center in South Africa promises a memorable and stress-free celebration. By choosing the right center, planning ahead, and incorporating these tips, you can ensure a fun and unforgettable experience for your child, their friends, and yourself. So, go ahead, book that indoor play center, and get ready to throw the best birthday party your child has ever had! Happy celebrating in South Africa!
Articles related to your search: