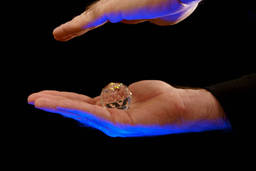 A magician is a great way to entertain the kiddies at parties, fetes, and other events.
Magicians perform magic tricks and games that enthral and dazzle the curious minds of kids.
Plan a spectacular show for your kids!
Information on magicians for kids in South Africa
Is a magician right for your next event?
Party magicians are entertainers who can visit your party and perform a magic show for your child and their guests. Skilled in the arts of illusion and misdirection, professional magicians entertain and excite little ones by pulling off seeming impossible feats. Very few children can resist the allure and curiosity of a skilled magician, so why not organise a magic show for your next kids' party?
There many many benefits to hiring a professional magician for your next kids' party or event. A magician can provide:
Party games and kids' activities to keep everyone busy and entertained.
Less stress for you
Fun entertainment that will have everyone laughing
A boost to your child's self-esteem
If your kids are happy to sit and be entertained for a set period of time, a hired magician would work perfectly for you. Kids with shorter attention spans might find sitting through an entire show more of a challenge - they may prefer a more physical activity such as a jumping castle. Kids younger than three or four might get frightened by being around a stranger, so keep this in mind.
How to find a magician?
Not sure where to find party magicians? Check online or ask friends for recommendations - other parents will probably know of some excellent kids' party entertainers in the area. The cost of hiring magicians can vary, but you should usually expect to pay between R700 and R1000 per hour. Some magicians will stay for the duration of the party while others will leave after the show.
If your house is too small to host a magic show, don't despair - most magicians will travel to a local play centre or other venues. Some venues even have their own magicians for hire, so if you are booking a space be sure to make inquiries.
Have you exhausted your own bag of tricks for kids' party ideas? Perhaps it's time to outsource - hire a magician!