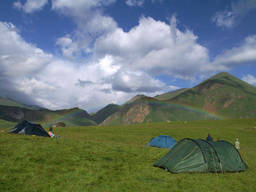 If you want a cheap family holiday which combines fun and adventure, then look no further than camping!
Camping is a great family activity that can be enjoyed anywhere from national parks, to beaches, to your very own backyard! Best of all, it will teach your kids valuable practical skills and give them an appreciation for the outdoors.
Information on camping for kids in South Africa
Will your kids enjoy camping?
Although doing without luxuries may not appeal to everyone, camping is not necessarily a primitive experience. Many camp sites now offer full bathroom facilities, cooking areas, and even restaurants, so no matter what level of comfort your family requires there will be a campground to suit you.
Camping has many benefits, and can provide your kids with:
Exercise - campsites usually include plenty of opportunities for exercises, whether it be hiking tracks, swimming, or mountain climbing.
Excitement - camping is a great adventure for young and old alike! Young kids will particularly enjoy the novely of cooking their own food and sleeping outdoors.
Greater resilience - learning to cope with adverse weather conditions and discomfort helps kids deal better with other difficulties they may face in life.
Survival skills - learning to cook, set up a tent, and build a fire are all valuable experiences that can help to teach kids more about nature.
Family time - with no TV, computers, or video game consoles, there is nothing to do but interact and relax with the family.
Children of all ages can enjoy a camping trip, although it may be more challenging with very small babies or active toddlers. Camping is great for nature loving kids and for city children who don't get to experience the outdoors as much as they would like.
How to organise a camping trip with your kids
Camping is seasonal and the availability of camp sites usually depends on weather conditions and other factors, including potential bushfires and other natural disasters. There are a number of commercial campgrounds spread throughout South Africa. You can choose between:
Commercial campsites - these offer good facilities but can be crowded and expensive. They are ideal for inexperienced campers, or those with a caravan or campervan.
Free campsites - These are great for your wallet, but may lack facilities. They are ideal for experienced campers who are looking to truly get back to nature.
National parks - These will often have basic facilities, but can be in remote camping locations so it's a good idea to have plenty of supplies. Usually there is a minimal cost and there may be restrictions on bringing pets.
If you are taking your kids camping, it is important to be aware of the environment and any rules governing pets, fires, and food. Make sure you have good quality camping gear, always check the weather forecast before you go, and don't forget to take along a few kids' activities for the journey if you'll be driving for some distance to reach your destination.