Adventure Play Park for Kids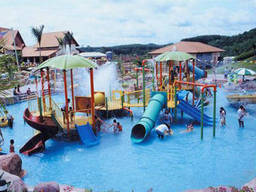 An adventure play park is essentially a playground but on a much larger scale. THey can be found throughout New Zealand at different locations including schools, parks, and play centres. Most cities are home to indoor and outdoor varieties of the adventure play park.
A video of Adventure Play Park for Kids
'
An adult being a big kid at an adventure park in Queenstown, New Zealand!
Information on adventure play parks for kids in South Africa
Which adventure play park is right for your kids?
Adventure play parks are at the top of the list of great kids activities because they are a great way to get your kids physically active in a fun environment.
Playing with other children at an adventure play park may bring many benefits to your child:
social interaction
communication
building their imagination
physical activity
improving their coordination
gaining confidence
Children aged five and up can easily navigate an adventure play park.
Most parks have:
towers
climbing ropes
foot bridges
slides
swings and lots more fun equipment
Toddlers and babies can play in some areas of the playground, but some of the equipment may be too big for them. It's best to keep younger children under close supervision in play areas like the sandpit and other ground level equipment. Do a quick check of the adventure play park beforehand and keep kids clear of broken glass, and faulty or rusty equipment.
An indoor adventure play park provides a great alternative to an outdoor playground. The equipment in an indoor adventure play park is more varied than in outdoor playgrounds. Keep in mind that socks must be worn whilst playing on the equipment.
Here children can play on:
bouncy castles,
rope bridges
ladders,
maze climbs and
mega slides,
and many various types of apparatus
There are usually fenced off areas for toddlers and babies, with smaller play equipment cushioned in case of any falls. Any good indoor adventure play park will provide activities including games for kids and birthday parties at an extra cost. The adventure play park usually has a chill out area for the parents as well.
How to Organise a Trip to an Adventure Play Park with Your Kids!
The best time to visit an outdoor adventure play park is when the weather is fine. Rain may cause the play equipment to become slippery and dangerous. Playing in extreme heat is also not advised, but if you do, do not forget to bring a lot of water, some sunscreen and a hat.
An indoor adventure play park is great all year around as many have air conditioning. Most charge an entry fee for unlimited play. Admission prices differ depending on the age of the child.
To find a good adventure play park near you check out our ActiveActivities directory.