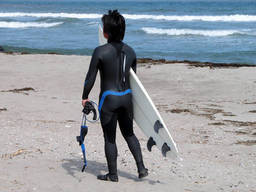 Surfing is a popular summer water sport which involves riding on waves on a lightweight fibreglass board, known as a surfboard.
The sport of surfing as it is known today originated in Hawaii before the 15th century and was introduced to the rest of the world in the mid 20th century.

In the intervening years, surfing has grown in popularity, with many surf clubs and surfing leagues currently active throughout the world.
A video of Surfing for Kids
Inspire your kids with this video about Hawaiian surfer girl Kulia Doherty
Information on surfing for kids in South Africa
Is surfing for your kids?
Surfing is one of the most popular kids activities in South Africa. Learning to surf can benefit your children in many ways. For example, surfing may teach your kids:
Increased confidence
Improved health and fitness, especially breathing, muscular endurance, and back strength
Lifesaving water safety skills
Improved balance
An interest in weather conditions, including being able to read and understand weather forecasts and being able to determine the level of safety of their environment.
An awareness and enjoyment of the outdoors, especially the ocean
Social skills through meeting and dealing with other surfers in the local surf
Surfing lessons are equally suitable for boys and girls. Surf instruction usually starts at around age six for beginners. For safety reasons it is better to get your child to learn how to swim correctly before taking him or her to surfing lessons. You may like to check out the ActiveActivities directory for swimming lessons in your area.
Get your kids started!
A relatively inexpensive way to introduce your children to the surf is to purchase a cheap boogie (aka body) board or surfboard for them to try out at a local beach. This is a fun way to introduce your children to this new activity, but make sure you supervise them at all times while they are in the water.
Some parents opt for more formal surfing tuition. Surfing schools offer group lessons and holiday programmes for children aged six and above. These programmes usually provide coaching from professional surfers and can be a great way for kids to learn to surf in a safe and well-supervised environment.
For younger kids, or for more of a one on one experience, individual tuition can usually be arranged through your local surf school or club. Costs for surfing lessons vary considerably, but you can generally expect to pay around R100 for a two hour group session and R300 for a private lesson, including equipment.
Essential equipment, such as a surfboard, wetsuit, and rash vest, will usually be provided or made available to hire by your surf school. The types of boards on offer differ widely and it is advisable to get professional advice before deciding what size is most suitable for your child. The two main options for surfboards include:
Long boards - generally considered the best for beginners as the thickness and length provide more stability and make it easy to catch waves.
Short boards - suitable for experienced surfers as they are faster and more manoeuvrable.
Foam Boards: - both long boards and short boards are available as foam boards. It is generally recommended that children who are just beginning to surf use a foam board as a safety measure. Children's heads are soft and precious, and we do not want them connecting with hard surfboards.
There are a number of variants of each type of surfboard, but these are generally considered more suitable for experienced surfers. If your child is just starting out they will probably be most suited to a basic long board.
Although surf lessons generally take place in a sheltered area of the beach, once your child has progressed from the beginner stage they might want to surf in more challenging conditions such as sandbanks, breaks, or bigger waves.
There are a number of safety considerations that parents should be aware of, particularly if they are teaching their children to surf themselves. Certain tidal patterns and features can make the surf extremely dangerous including:
Rips
Currents
Rocks under the surface
Tides
Changing weather conditions
It is important to always be aware of the flags and listen to any warnings or advice from surf lifesaving staff. With proper supervision and plenty of common sense your child can enjoy this great summer sport with a minimum amount of danger.