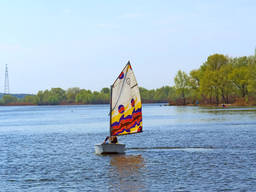 Sailing requires participants to control a sailboat on the open water. Sailing is a popular activity in South Africa for both adults and children. Sailing can take place on many different types of sea vessels, from large boats to smaller lasers or catamarans. Get your kids outdoors and on to the water for an unforgettable experience!
Information on sailing for kids in South Africa
Will your kids enjoy sailing?
Do your kids enjoy being around the water? If your kids are confident swimmers and like the ocean, they will probably love sailing. This sport can help kids:
Learn about water safety
Make friends
Learn about teamwork and co-operation
Improve strength and fitness
Improve fine motor skills
Improve strategic thinking
Recreational sailing is non-competitive and a great kids activity for those who don't like the pressure of highly competitive sports. Sailing is great for boys and girls and kids can often start at around 6 years old. Supervision is essential around the water and it is essential they have a qualified teacher and make sure they wear floatation devices at all times.
How can you organise sailing lessons for your kids?
Want to get your kids into sailing? Contact your local sailing school. Sailing schools are usually affiliated with clubs and classes run over the summer months and during school holidays. To start out, kids learn basic sailing skills, such as:
Knots
Dinghy sailing
Rigging
Recovering from capsizing
Controlling direction through wind and breeze
Some kids' activities can turn into a passion that runs through to adulthood, and sailing is certainly one of these. Kids who master the basics can progress to learning to sail bigger boats and taking parts in races. Many kids also enjoy sailing as a relaxing pastime, and are happy to cruise around on the water.
You don't have to own a yacht and pay for docking to get your child involved in this sport. Sailing lessons cost around R1750 and all boats and equipment are provided.