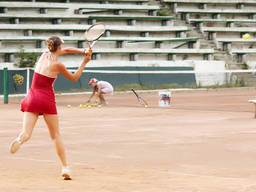 Tennis was first played in New Zealand in the 1870s. It has been popular ever since. Tennis is usually played outdoors, but it is also available as an indoor sport. Tennis is played competitively at both international and domestic levels.
A video of Tennis for Kids
This video tutorial, presented by tennis instructor Hill Marks, will help your children master the basics of swinging a racquet
Information on tennis for kids in South Africa
Is Tennis right for your kids?
Tennis is one of those kids' activities that almost any child can take part in. Tennis is popular because it:
Promotes fitness
Teaches social skills
Can be played by people of all ages, genders, and abilities
Can be taught from a very young age
Carries a low risk of injury
Teaches strategic skills
Is a great family activity
Get your kids started!
Many schools have tennis courts where kids can learn and practice tennis.There are also a large number of private tennis courts for hire. Hire costs can vary from R140 to R200 per hour, depending on location and popularity.
Children can also join a tennis club. Fees vary from club to club, with a typical price being approx. R200 a year. Fees usually include free use of courts. Many clubs also arrange their own competitions, which may provide that extra bit of fun and excitement for your child.
Schools, commercial tennis courts, and tennis clubs will usually have their own teachers to provide lessons. The cost of lessons can vary widely, and will depend on the qualifications of the teacher and the number of children in the group.
To find a local tennis teacher for your child, you can::
If your child decides they want to pursue tennis, you will need to buy them their own racquet. There are a wide variety of racquets on the market, with costs ranging from R250 to R1500. Your child's needs will depend on their age and size; speak to a local tennis coach for advice on what type of racquet to buy. You may also choose to buy your child some tennis balls to practice with. These are usually around R10 or R25 each. Clothing can be as simple as a T-shirt, shorts, and tennis shoes.
Stars and events not to be missed!
South Africa has won six medals for tennis at the Olympic Games, including 3 gold medals, making South Africa the fourth most successful nation of tennis players in the world. Kevin Anderson, South Africa's number one tennis player, is ranked 33 in the world in the ATP Men's tennis rankings. South African tennis players Wayne Ferreira and Amanda Coetzer have earned titles in the ATP and the WTA rankings, respectively.
Get your kids to start playing this great game today!