Table Tennis for your Kids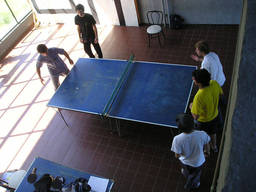 Table tennis, also known as ping pong is a form of tennis that is played on a special table with a net.
Great for confined spaces and indoors, it has become a fiercely competitive sport that goes all the way up to Olympic level!
A video of Table Tennis for your Kids
A kid playing table tennis like a grown up!
Information on Table Tennis for Kids in South Africa
Do your kids like a fast paced challenge?
They will probably love the game of table tennis. Table tennis is a test of reflexes and agility as well as ball skills, and is an activity that can be enjoyed by any child tall enough to see over the ping pong table and hold a small racquet! Kids can play in singles, doubles or even teams, making it a great game for the entire family or group of friends.
Table tennis for kids can:
Improve racquet and ball skills
Teach hand eye co-ordination
Improve fitness and agility
Help develop team skills
Be a fun way for the family to spend time together
Are your kids able to focus for a reasonable period of time? Table tennis takes focus and concentration and kids who are unable to concentrate may find it difficult. Most kids can start to play table tennis as soon as they are old enough to reach above the table, although their developing hand eye co-ordination may make it difficult for them to hit the ball. Of course, with time, learning to master this will be a great benefit. Table tennis is also relatively safe kids activityas the ball is very light weight. A table with an adjustable height can be a good solution for young kids who are keen to start.
How can you organise table tennis lessons and matches for your kids?
Table tennis activities for kids can be done either as structured lessons with a coach or by just having fun at home. Many people have table tennis tables in their house and this can be a great way to introduce kids to table tennis as well as a form of family entertainment. Once you know the basic rules of table tennis, you can play whenever you like!
Is your child looking for a more formal way to play? They might want to join a table tennis club which are a great way to make friends. They can also organise tournaments and matches. Costs for table tennis lessons are around R50 per two hour session and programmes usually run during term time with extra sessions during holidays.
For a fun, fast paced and competitive activity, try table tennis. You may even end up with an Olympic athlete on your hands!