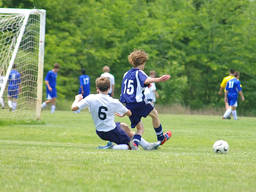 Soccer (or football) has been played in various forms since medieval times, however the soccer we know and love today was officially formed at Cambridge University in 1848. South Africa's football federation, the Makana Football Association (MFA), was established in 1969. The sport enjoys global popularity, played recreationally and professionally by over 250 million people in over 200 countries. FIFA is the international governing body of soccer.
A video of Soccer for Kids
This video will teach your kids great tips and techniques to get them started playing soccer
Information on soccer for kids in South Africa
Is soccer right for your kids?
Soccer builds speed, agility, coordination, and teamwork. Strategic skills are also utilised to breach the opposition's defence.
Soccer is widely played in South Africa, at both a professional and recreational level. There are many Soccer Clubs and Soccer Associations to join. Children between three and five years old can begin soccer for around R50 per session, with corresponding programmes for older kids.
Children who play soccer will develop their concentration skills whilst also developing their fitness and social skills. It is a non-contact sport, although some contact can occur at professional levels.
Get your kids started!
Equipment and clothing children will need:
T-shirt and shorts
Soccer boots (runners at junior levels)
Soccer socks
Shin Guards
Soccer ball for practice
At later levels, shin guards and mouthguards must be worn. You can play indoor soccer or outdoor soccer throughout South Africa. You will find everything you need to know about soccer in your local area in the ActiveActivities directory.
Tips for success
Practise footwork and running with the ball in your backyard at home
Kick a ball with friends during recess or lunchtime
Practise your juggling: juggling in soccer is when you see how long you can keep the ball in the air without it touching the ground.
Stars and events not to be missed!
The South African Premier Soccer League (PSL) is popular.
South African success in international soccer competitions is increasing. South Africa's soccer team, the Bafana Bafana, has made three World Cup appearances. Currently, they are yet to make it past the first round, but they have won African Cup of Champions. South Africa's star soccer players include Benni McCartney, Shau Bartlett, and Aaron Mokoena.
Get your child involved in this exciting kids' activity!