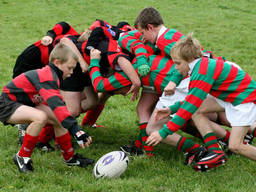 Rugby Union is a full contact ball sport originally from England. Most reports suggest it originated as early as 1823, at a British school fittingly named Rugby. Played with an oval ball on a rectangular field, Rugby Union is most commonly played in Australia, New Zealand, the UK, South Africa and the Pacific Islands.
Information on Rugby Union for kids in South Africa
Is Rugby Union right for your kids?
Rugby Union is a full contact, outdoor sport that focuses on teamwork, speed, and strength. It is perfect for children who like being social and enjoy physical kids activities. Kids starting out usually begin by playing touch rugby and learning tackling skills. Rugby Union can teach your children:
Teamwork skills
Ball skills
Strength and agility
Confidence within a group
Getting and staying fit
Get your kids started!
Junior Rugby Union can be played by children as young as four years old. Junior Rugby Union clubs can be found in schools. Once thought to be a boy's game, girls' Rugby Union teams are now increasingly common. At the junior level, boys and girls play in mixed teams.
The equipment required is basic since contact is limited in junior ranks; a good pair of sports shoes, and clothes that you don't mind getting dirty, are all that's needed! As children get older, it is advisable to purchase protective gear, including:
A mouthguard
Protective head gear
A rugby jersey (usually supplied by the club for the season)
Studded boots
A Rugby Union ball
Rugby Union is very much a team sport. Whilst individual skills like kicking and passing can be practised solo, it is recommended that children practice in groups under supervision of a Rugby Union coach, guardian, or parent.
Stars and events not to be missed!
Rugby Union is a key sport in South Africa. South Africa's national team, The Springbooks, won both the 1995 and the 2007 Rugby World Cups. South African Rugby Union stars include Bismarck du Plessis and Chiliboy Ralepelle.