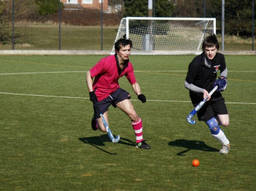 Hockey is a team sport where players compete to score a ball or puck into their opponent's goal by hitting it with a stick. Generally, there are 11 players per team. In South Africa, hockey is commonly played as a school sport in the winter months. However, summer competitions also exist - your local hockey clubs can provide details.
A video of Hockey for Kids
This video tutorial will help your child master the basics of field hockey
Information on hockey for kids in South Africa
Is hockey right for your kids?
Hockey is a kids activity that is played by both boys and girls, and usually starts while in primary school. It is played on a pitch or hockey ground.
Learning to play hockey will benefit your children in a number of ways. Hockey can:
Improve fitness
Promote team skills
Create a chance to make new friends
Teache discipline
Build confidence and self-esteem
Getting your kids started
Most South African primary schools offer field hockey as part of their sports programme. Additionally, there are a number of private clubs that provide a chance for kids to learn and compete in league matches. The South African Hockey Association is South Africa's premier field hockey body. It organizes competitions for children aged 5 and up. It also offers coaching programmes and lessons.
Ice hockey is another sport which is growing in popularity in South Africa. This form of the game is played on ice rinks using skates, and it has a reputation for being quite a lot more physical than field hockey. Ice hockey has its own league, its own separate league, the South African Ice Hockey Association,, and organized tournaments. Other forms of this sport are roller hockey, which uses rollerblades to emulate the flow of ice hockey, and indoor hockey, which is similar to field hockey but has a smaller field and is even faster.
To get started, your child will need:
A hockey stick (make sure you buy the right size for their height - check online)
Specially designed boots (running shoes will be fine at first)
Protective gear such as shin pads
Comfortable clothing to run around in
Programme fees vary from around R200 - R1000 per term, depending on the club. As hockey is a winter sport it's best to enrol your child at the end of summer to ensure they get a spot. If playing outdoors, remember sunscreen and a hat.
Don't miss these hockey stars and events!
The South African Inter Provincial Tournament (IPT) is the premier hockey league tournament in South Africa.
Are your kids interested in hockey? Try the ActiveActivities directory for a list of kids' hockey clubs near you!