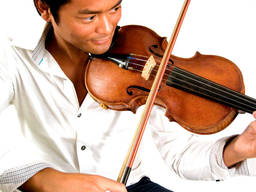 Do your kids have an interest in music? They might enjoy learning the violin!
A violin, sometimes referred to as a fiddle, is a wooden instrument which is played by moving a bow across four strings. The violin is believed to originate in Europe in the 19th century, and has since become popular worldwide.
It is the smallest of the stringed instruments and has a higher pitched sound than other instruments in its family, including the cello and the viola.
A video of Violins for Kids
Young violinist Dhanat will impress your kids!
Information on violins for kids in South Africa
Will your kids enjoy playing the violin?
If you want your kids to learn discipline, develop their musical skills, and express themselves creatively then the violin might be for them. Learning to play the violin can improve your kids':
Creativity
Ability to focus and concentrate
Hand eye co-ordination and fine motor skills
Language skills
Reading skills
Learning the violin takes time and practice, and is a good activity for kids who have a natural interest in music or at least the motivation to persist through the early stages. Kids who prefer the outdoors or find it difficult to sit still for long periods may be less enthusiastic.
How to get your kids playing the violin
Kids can start playing the violin from age three. Most children take violin lessons from a qualified violin teacher, either privately or at a music academy. There are a number of music exams that kids can work towards as they progress, and plenty of opportunities to perform as part of an orchestra as their skills improve.
In order to learn the violin, your child will need an instrument to practice on as well as equipment including a bow, a carrying case, and a shoulder rest. As with many kids' activities, aspiring violinists can learn as part of a class or take private lessons, or a combination of both. Private violin lessons generally cost around R100 for half an hour.
You can enrol your child in violin lessons at any time of year. Some academies run concurrently with the school year so it is a good idea to get in before the beginning of the term you want your child to start. If your child wants to improve they will ideally need to practice every day for at least ten minutes and as a parent you will probably need to offer lots of encouragement.
Don't miss these violin stars and events!
Zanta Hofmeyr is South Africa's most well-known violinist. He is sure to provide inspiration for any little aspiring violinists in your household!