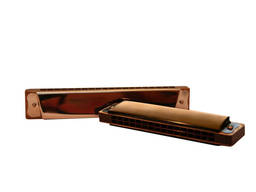 Your child can express their musical talent anywhere with an instrument that fits in their pocket!
A harmonica is a handheld wind instrument with a distinctive reedy sound. Most often heard in blues and folk music, the harmonica is fun to play and very versatile!
A video of Harmonica For Kids
Harmonica can be a really fun musical instrument to play, very small, your kids will put it in their pocket and bring it wherver you take them! It is also a great way to get to learn blues rythmics, also very popular and creative as it is based on improvisation.
Information about Harmonica For Kids
Will Your Kids Enjoy the Harmonica?
Are your kids always listening to music? They might like to learn an instrument and the harmonica could be a great place to start. The harmonica is a small, inexpensive instrument that takes up virtually no space and is very simple to play. It can be a great option for parents who aren't sure if a musical instrument will be right for their kid and don't want to make a big financial outlay.
Just like learning any musical instrument, your kids may benefit from playing the harmonica in a number of ways:
Increased awareness of musicality and a chance for them to develop their musical 'ear'
Opportunity to express creativity through music
Playing a wind instrument may greatly help lung capacity and regulate breathing problems such as asthma and bronchitis
Cheap - you can buy a basic harmonica for a few dollars.
Portable – harmonicas can be slipped into a pocket which makes them highly transportable.
Are you looking for an instrument that will appeal to all ages, from a two year old to an eighteen year old? The harmonica is one of the few musical activities for kids that can be enjoyed at any age and although it takes practise, even very young kids will probably enjoy being able to blow into the holes and make sounds by moving their hands up and down.
How Can You Organise Harmonica Lessons and Events for Your Kids?
Harmonica lessons are usually available from qualified music teachers at around R100 per hour for private tuition. Some harmonica teachers teach at schools and others will come to your house, depending on location. To find your local Harmonica classes search the ActiveActivities directory.
No harmonica teacher in your area? You can always get your child a course of online harmonica lessons. This is a popular way to learn and a beginner's online course will usually cover breathing techniques, correct positioning and different types of harmonica and styles of music. You don't need to be able to read sheet music to play the harmonica as most music is written in harmonica tablature or tabs which is a graphical representation of the holes on the instrument and which ones are covered.
Not sure what harmonica to buy? It is generally recommended that beginners start with a basic model tuned to the key of c.
If you are looking for cheap and portable musical kids' activities, look no further than the harmonica!