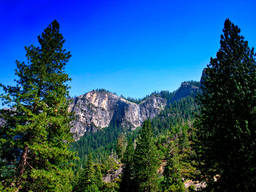 Looking for an adventure in the great outdoors? Head to your local national park! A national park is a government protected reserve designed to help preserve South Africa's native plants and wildlife. National Parks are usually open to the public and may offer a number of family activities including camping, hiking, boating and swimming.
Information on national parks for kids in South Africa
Will your kids enjoy a visit to a national park?
For a chance to get outdoors, learn about the bush, and experience some quality family time, you can't beat visiting an South African National Park. Your family will benefit from being in the fresh air and enjoying a range of kids' activities, including biking, walking, and climbing. National parks are often set in areas of great natural beauty so you will get to experience stunning views and maybe even catch a glimpse of some local wildlife.
Many national parks are set up to protect a particular species of plant or animal and offer educational talks and tours. These can be a great educational opportunity for kids to learn on native South African wildlife and caring for the environment.
National parks are good for kids who enjoy nature and like to be physical. Most national parks have picnic areas and many offer camping facilities. Some are well known eco-tourism destinations and provide full scale accommodation for guests.
How to organise a visit to a national park with your kids
National parks are usually open all year round, but some may be closed at certain times of year or when there are nture disaster risks. It is always best to check well in advance of your visit. Keep in mind most national parks close their gates overnight, usually between sunset and sunrise, and if your car gets caught after hours there may be a fine or cost involved in having the gates unlocked.
National parks can be coastal or inland, desert or mountainous. Some terrain can be difficult to navigate in an ordinary car, so a 4 wheel drive might be your best bet to reach those tricky areas. It is important to be aware of any safety considerations associated with the region you are visiting: pay attention to advice or warnings from park rangers.
National parks are usually free to enter, although there may be fees for parking and camping. Some have cafes and restaurants, while others have only the most basic facilities.
If you are planning to visit a national park it is important to dress appropriately for the weather. Make sure you wear sturdy shoes and bring hats and sunscreen for everyone.