Water Play Parks for Kids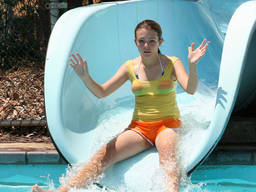 Are you looking for a way to keep your kids cool during the sweltering South African summer? A water play park could be the answer. A water play park offers a number of attractions, games and rides all based around water. Think fountains, slides, tunnels, and pools!
A video of Water Play Parks for Kids
The world famous Six Flags chain of amusement parks will get your kids splashing around and having fun in the sun! Watch this video of Six Flags Hurricane Habour (US) to get them pumped!
Information on water play parks for kids in South Africa
Is a water play park right for your kids?
If you want to get your children burning off their excess energy in a fun and safe environment, taking them to a water play park is a great option! A water park visit can offer a chance for the whole family to have a great time, get some exercise, and stay cool when the temperatures soar. Water theme parks may have a number of benefits for kids including:
Exercise - a chance to swim and run around
Improved swimming ability - a way to practice their skills in a fun environment
Social interaction - the opportunity to meet and interact with other children
Confidence - an opportunity to face any fears of water
Fun - great entertainment for the whole family
Most kids enjoy a visit to a water play park, but they are best suited to children who are confident swimmers and who enjoy the sun and water. A typical water park will usually include the following kids activities:
Water slides (different slides will be suitable for different ages)
Fountains (suitable for all ages, but very young children may dislike water on their faces)
Wave machines (suitable for all ages)
Rapids (suitable for strong swimmers)
Baby pools (best for babies and toddlers, or less-confident swimmers)
Lap pools (for older or more serious swimmers)
Other features of a water play park might include park rides, a café, changing rooms and lockers for storing valuables.
Water parks usually have lifeguards on duty but it's important to supervise young children or those who aren't confident swimmers.
How to Organise a Water Play Park Trip with Your Kids
Most water parks are open all year round, but summer and school holidays are usually the busiest times. You can find water parks all over South Africa.
Admission fees vary from R70 - R120, depending on the size of the water play park. Discounts are often available online and for families.

Don't forget hats, plenty of sunscreen, a towel, and a change of clothes!