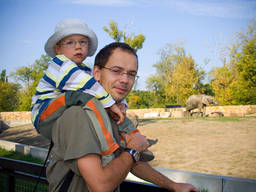 Take your kids to an animal zoo. Where they can learn more about the natural world! Animal zoos often feature animals from all over the world, including rare and endangered species. The National Zoological Gardens of South Africa was the first zoo to open in South Africa, and has now been open for 144 years!
Information on animal zoos for kids in South Africa
Will your kids enjoy a visit to an animal zoo?
If you're looking for a fun and education day out, you might want to consider taking a trip to an animal zoo. As well as the chance to learn about different kinds of animals, animal zoos can offer a range of other activities for kids, including:
Education talks on animals and their care
Entertainment and demonstrations, for example seal and dolphin shows and animal feedings
The opportunity to pet and cuddle animals
Games and quizzes on wild animals
A chance to learn about the environment and animal protection
Playgrounds and interactive exhibits
In addition to these kids' activities, the whole family can benefit from the opportunity to discover jungle animals and exotic creatures they might not have previously seen outside of a movie theatre.
An animal zoo is likely to appeal to kids and adults of all ages. Some small children can get bored after a while so it is a good idea to provide a variation on activities and plenty of opportunities to rest.
Zoos usually have cafes, restaurants, and souvenir shops. Some zoos also provide picnic facilities, so you can bring your own food and enjoy lunch in a beautiful setting at your own pace.
How to organise a visit to an animal zoo with your kids
An animal zoo usually opens all year round although some enclosures may be closed at certain times of the year for breeding or maintenance purposes. If there is a specific exhibit you want to see, it is a good idea to check if it will be open before setting off.
Animal zoo admission is usually around R60 for an adult day pass and R40 for a child day pass, but family discounts and season tickets are available and can offer substantial savings. Get there early during school holidays and on weekends as entry queues can be long.
Before you go it is a good idea to look up the times of the keeper talks so you can plan your day. Make sure you get a map once you are inside so you don't get lost. Wear comfortable shoes and take a hat, sunscreen and plenty of water.