Why cooking from a young age will benefit your kids for a lifetime.
Go back to list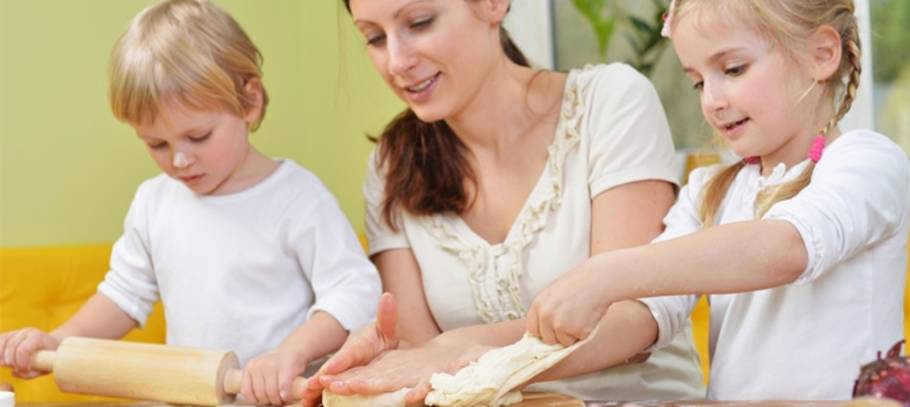 If there's a show that my kids enjoy more than their daily dose of cartoons, it is Master Chef. I love seeing the sparkles in their eyes as contestants on the show plate up their beautifully crafted creation. I come from a family of food lovers and over the years, I have passed on my passion for food to my kids. Cooking and eating meals together are not only important family bonding time, they also teaches kids many other valuable skills that you may not be aware of.
Cooking teaches kids about the origin of food
It is important from a young age to teach your kids to appreciate and not waste food. For young children, they may perceive all food come out of jars, tins and take away boxes if that's all you expose them to. Your kids will benefit from having first-hand experience from something like a farm stay. Once kids experience the hard work involved in producing the final products such as milk, cheese and meat, they will learn to appreciate the food they eat.

Cooking exposes kids to different cultures
As adults, one of things we enjoy the most with family and friends is being able to experience the delicacies of different countries together. This is something you can nurture in your kids from a young age. Try to be experimental with your cooking and make time to cook exotic dishes together on a regular basis - be it Paella, sushi or dumplings.

Cooking creates the perfect family bonding time
The process of planning, preparing the ingredients, cooking and eating a meal together brings family closer to one another. Through cooking, you can teach your kids about the importance of team work and patience. Create a relaxed environment when cooking with your kids, as it provides a good opportunity for you to ask them about their day and show them you care. On the weekends, pack a picnic basket with the food you've cooked together and head out to a nearby beach or park and have a family picnic

Cooking teaches kids chemistry skills
Before you panic about your kids turning into a geek, the process of cooking teaches kids some of the most basic forms of chemistry that they'll be able to easily understand. My kids really enjoy baking. The baking process allows them to be creative and test out different combination and flavours and watch their creation slowly come to life in the oven. If your kid is very passionate to learn more about cooking, why not sign up to a cooking class together.

Cooking teaches kids maths and reading skills
Cooking requires a lot of measuring and following recipes. Although my kids despise maths at school, they enjoy helping me to measure ingredients when I bake. As cooking is a more hands-on activity, kids are less incline to feel bored, which makes the kitchen at home an excellent learning environment.

Cooking build lifelong skills
Although most of us would prefer not to think of the day when our kids eventually grows up and leave home, knowing how to cook from a young age will provide them with lifelong skills for their adult life. I'm sure all parents wouldn't want to see their kids survive on baked beans and toast for the rest of their lives once they leave home. You can start by teaching your kids basic cooking skills such as how to cook a simple eggs, sausage and toast breakfast or how to make a basic pizza for themselves.
If you're looking for kids activities that's fun, challenging and something the whole family can participate in then it's time to organise a family cook off! In addition to cooking lessons and classes, our ActiveActivities directory also have specialised cooking schools that your kids might be interested in. Bon Appetit!