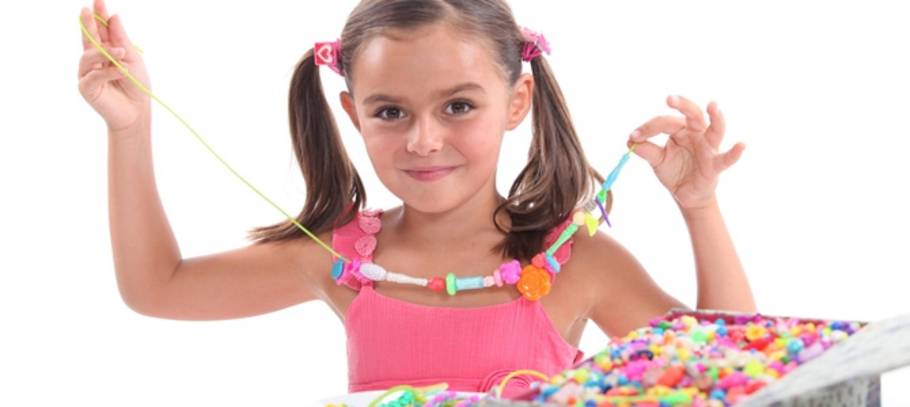 Mums will find it hard to avoid
Even if you wear hardly any jewellery, the kids still want to because of your other female connections. If your daughters are anything like mine, they're observant enough to have spotted and memorized that dangly pair of earrings, necklace or bangle your Mother in law or best friend is wearing every time you meet up!
Aside from dress ups though, jewellery making for kids is a great way for your little ones to practice hand-eye co-ordination, put colours together, and have a feeling of achievement when they finish something.
Here are some jewellery making ideas my kids loved doing and are able to wear too:
1. Big beaded necklaces
Make sure you purchase quite large beads so that even your oldest child will find them hard to swallow. Sewing supply shops also sell many different materials that are completely safe, which you can use as a bead substitute, such as pom poms and fluffy balls.
2. Clay and plasticine bangles or rings
If you already have a supply of clay or plasticine, encourage the kids to mould them into shapes that fit around their hands and fingers. Use a toothpick to make pretty designs, then leave them out in the sun to dry. They're ready for wearing in just a day's time!
3. Artwork brooches
If your house looks like mine, there are probably loads of your kids' drawings and paintings lying around. These can be cut up and glued on to cardboard. Simply attach a big pin at the back, and they transform into a beautiful brooch – great for wearing or gifts! Of course you can also spend time adding more decorations such as ribbons, beads and additional drawings. This is a great one which doubles as arts and crafts activities for kids too!
There are also lots of jewellery making kits that you can purchase at the shops. Make sure your kids are the right age for these so they are safe. Check the ActiveActivities directory for a full listing of other school holiday activities for kids all over South Africa!
Bec Wilson
Bec is a married stay at home mum who spends most of her time sorting out the chaotic lives of her two daughters, Jessica (7) and Tessa (3). When she's not carefully coordinating her kids' outfits, or addressing their notoriously complicated culinary requirements, she likes to share in the busy lives of other parents. After devouring mummy blogs for years, Bec decided to start blogging from her Cape Town home last year. She hopes her experiences will inspire other parents and help them feel less alone when things get tough.