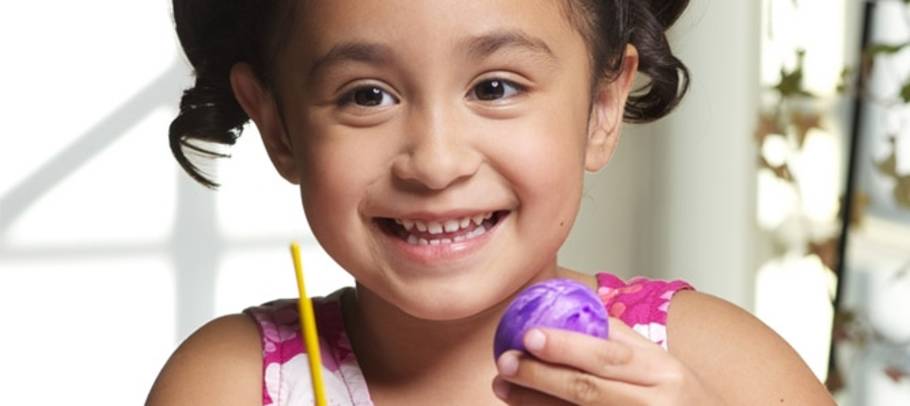 I have never had any trouble getting my kids excited about Easter. With seemingly endless supplies of chocolate and candy scattered around the house, they never get bored over the long weekend. But are you ever left with the feeling that our little ones don't get to make the most of their mini-break by being parked in front of the television with the candy bowl in their lap? This year, I have decided to keep my girls occupied with some arts and crafts activities that will keep their minds active, and their hands too busy to reach for that last Easter egg.
Here are just a few of the fun, Easter-themed kids activities I have planned. I'm sure any parents can have a look at what they have around the house (spare toilet rolls, paper plates, old cotton balls…) and come up with their own ideas!
Egg dyeing
Egg dyeing is a wonderful tradition that you can pass on to your kids. All you need is a blown-out egg (use a pin to poke a hole at each end, then "blow" the yolk out with your mouth) and some water-based paints. Then get creative!
DIY bunnies
Give your kids some cardboard, paper plates, toilet rolls, and cotton balls (and whatever else you have lying around the house) and watch them get creative making their own Easter bunnies.
Easter egg baskets
Get your kids to make colourful cardboard baskets to collect their Easter eggs (ok, I admit this one does involve chocolate, but at least they're working for it!).
My kids always feel so proud when they complete an arts and craft activity or project, and their grandparents are always so pleased when they end up as gifts. So what are you waiting for? Have a look around the house and see what you can find to expand your children's creative abilities this Easter. At the very least you will keep them distracted long enough to eat your share of Easter chocolates.
For more great Arts and Craft activites in your local area search the ActiveActivities directory.
Have Fun Kids