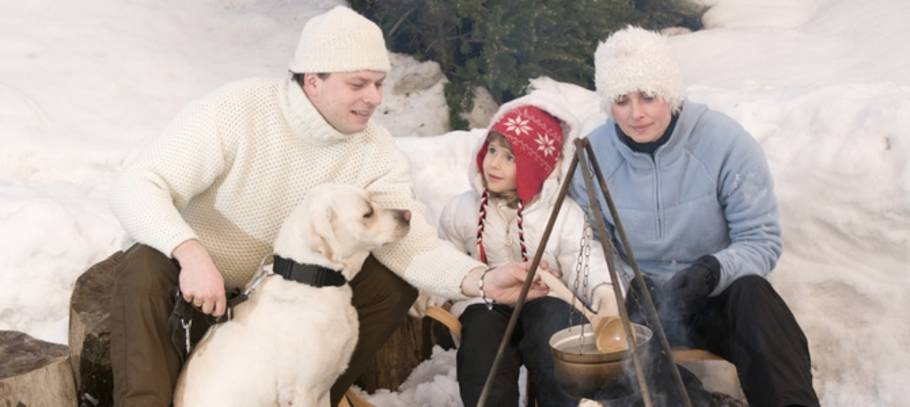 With Christmas just around the corner, I'm sure many of you already have exciting plans in place to celebrate this special time of the year with loved ones. For those of you still stuck for ideas for something a bit out of the ordinary, no need to panic, here are 5 for you to consider.
The White Christmas experience
There's something about the charm of a white christmas - building snowmen, having snow fight and drinking hot chocolate in front of the fireplace that holds great appeal to kids. Spend Christmas this year snuggling up to each other at a ski resort, decorate the family Christmas tree or may be it's time to finally take up skiing. Most ski schools provide ski lessons that caters to family members of all ages and skill levels.

Lakeside camping
Spending Christmas by a picturesque freshwater lake set the perfect scene for family bonding overlooking sandy beaches, in season wild flowers and the surrounding hillsides. Set up your camping site then spend the rest of your time trying out different water sports with the kids, fishing and taking sunset walks.

Barbecue at national parks Sick of the family tradition of Christmas barbecue being held at the backyard and parks? This year, why not add some excitement to the traditional family Christmas barbecue by having it at a national park? Most national parks have barbecue facilities set up in areas with a good view of the surrounding. After the barbecue, you can take your kids cycling, swimming or even bird watching at the national park.

Sail away into the sea
Ever wonder what it would be like to sail into the sea, soak in the sun and enjoy the peaceful stillness of the seawater and not have a worry in the world? Well, you can do just that this Christmas by arranging a sailing trip with your family. It can be a one-day trip sailing away to one of your family's favourite little bay or if you and your family are feeling adventurous, plan a few stop overs along the way.

Escape to the world of theme parks
Theme parks are magical worlds that kids can escape to and let their imagination run wild. There are endless rides to go on, characters in costumes to meet, ice-cream and hotdog to be consume. Christmas is a great time to visit theme parks as there will be shows and parades especially designed for the festive season. Best of all, most theme parks have resorts where families can stretch out their theme park stay over several days to make the most of it.
Regardless of your final family plan for Christmas, remember the importance of selecting places and activities both the adults and the kids in the family would enjoy. Look through our ActiveActivities directory for more ideas on kids friendly activities for this festive season.
Claire Dundreee
Claire, a hands on mother with two young girls and a baby boy, has been blogging for 2 years. Having grown up in an artistic family, Claire is delighted that her daughters have inherited her creative streak. Painting, drawing, and pottery are regular activities in the Drundree's Durban home, which also includes Claire's very patient husband. Claire understands not all mothers have as much time with their children as she does, and hopes her blogging can help busy mums find quick and easy ways to get creative with their kids.