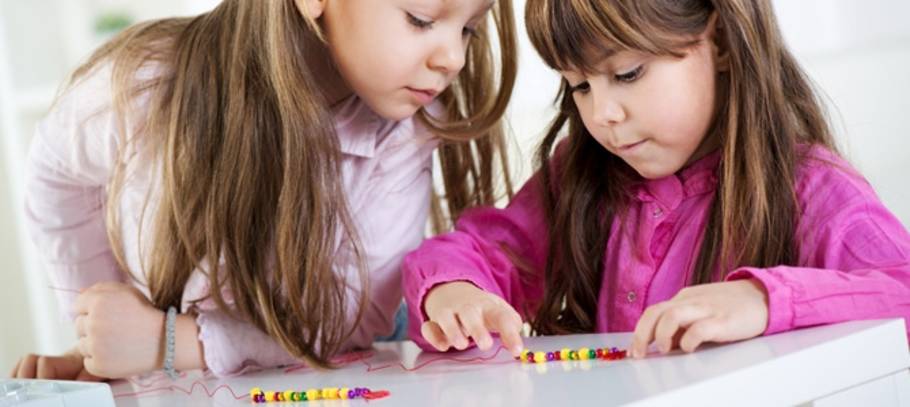 Do you love dressing up your kids in different jewellery and accessory pieces to match their outfit but finding the cost building up? The good news is that the best jewellery pieces are unique, one of the kind designs that you and your kids can come up with at home! You'll be surprised to find that what you see as ordinary objects around the house can be transform into a masterpiece in these 6 fun and easy home-made jewellery making projects.
Make the sweetest looking necklace in town with a selection of your kids' favourite candies. Create a Hawaiian candy lei using curling ribbons to attach the ends of the candies together. The best part about this idea is that your children will be able to enjoy the candies afterwards.

Got a penny to spare? Here's a fun project that involve some spare change (or something from your kid's rare coin collection), some plaid ribbon, hot glue and any other crafty bits that you kids would like to use to dress up a brooch or hairpin.

Paper is one of those readily available objects that everyone has laying around the house. They also make really great party bracelets. A simple idea to try for your kid's next fancy dress and costumes party is to make some funky paper bracelets out of paper-towel tubes to go with their outfit. Slice the tubes into rings with a utility knife then decorate with glitter, ribbons, flowers..... to turn it into a one of a kind creation.

If you have a garden full of blossoming flowers then here's a fun and easy handmade jewelry idea for your kids to try out. Create flower chain necklace or head pieces from fresh flowers. Try out different flower combination, use flowers that are in season and don't be afraid to mix in some leaves and branches to the creation to make it stand out.

Have you been holding onto those buttons that keeps falling out of your kids' clothes? Well, they'll come in handy for button bracelets! String the buttons onto elasticised cords to make stretchy bracelets. Mix old buttons with those bought from markets and craft shops to create different looks to spice up your kids' outfit.
I hope these ideas have helped to get you and your kids started on brainstorming for more home-made jewelry making ideas. Joining a crafts club and other associations found on our ActiveActivities directory is also a good way to keep budget low while trying out different ideas under the guidance of professional instructors. Remember that making beautiful home made jewelry pieces with your kids is a fun kids activity that don't have to break your wallet.
Bec Wilson
Bec is a married stay at home mum who spends most of her time sorting out the chaotic lives of her two daughters, Jessica (7) and Tessa (3). When she's not carefully coordinating her kids' outfits, or addressing their notoriously complicated culinary requirements, she likes to share in the busy lives of other parents. After devouring mummy blogs for years, Bec decided to start blogging from her Cape Town home last year. She hopes her experiences will inspire other parents and help them feel less alone when things get tough.