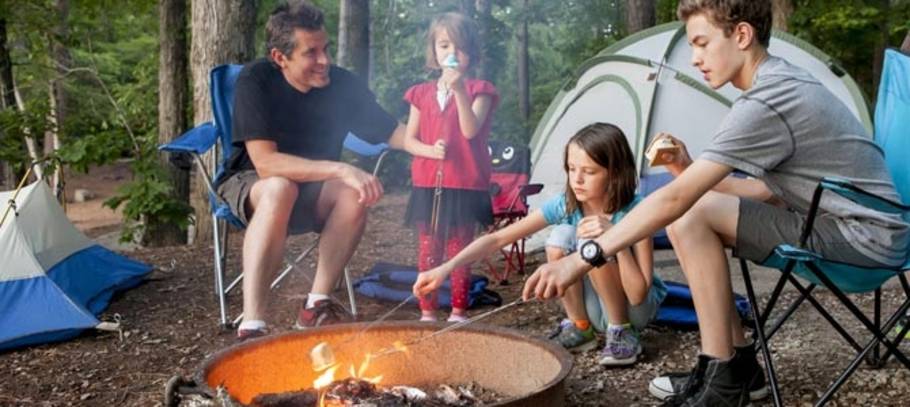 Last week, my kids went on their first school camp. I must admit that at first, I felt nervous about the thoughts of having my kids away from home for one week. The longest they've been away from home was their overnight stay at their Grandparent's place! However, upon their return from camp, I found many positive changes in them - they appear more confident in making decisions on their own and even started helping out around the house. Here are five key life lessons that camping will teach your kids.
Learn new skills
All camps teaches kids new set of invaluable skills that will stay with them for life - whether it is how to build a tent, cooking simple meals or how to work in a team. Being out of their comfort zone will push your kids to try new things they may have otherwise overlooked at home and school. Outdoor camping also provides the opportunity to pick up new passion such as hiking, abseiling, fishing....

First step to independence
For most kids, going on their first camp also means their first out of home experience. The first time for your kids to figure things out on their own and learn to live with other kids that are not their siblings. Before you start panicking, rest assure that your kids will be in the safe hands of camp counsellors to guide them through decision-making processes throughout the stay.

Building an identity
It is true that as parents, we have a profound impact on shaping the way our kids think and act from a young age. While our kids are young, we should expose them to different environment, people and activities to broaden their way of thinking. Camping opens the door for the opportunity for your kids to discover their identity outside of home and classroom environment.

A new appreciation for nature and life
How often do you find your kids leave the house when there's Wi-Fi, iPad, PS4 and other temptations at home. My kids loves family holiday camping trips where the whole family relax in nature without all the distractions in our daily city lives. After learning to live with so little, your kids will learn to appreciate the simple little things in life - like showering with hot water!

Sense of Community
The skills learned and confidence gained in building long-lasting camp friendships is an invaluable social networks that your kids will keep for life. Being part of a community scouts such as boy and girl scouts teaches children acceptance, diversity and relationship-building skills that they can't necessarily be taught at school or at home.
Got you inspired to take your family on a camping trip? Look through our list of fun activities for kids in our ActiveActivities directory to make your next family camping trip a fun one.