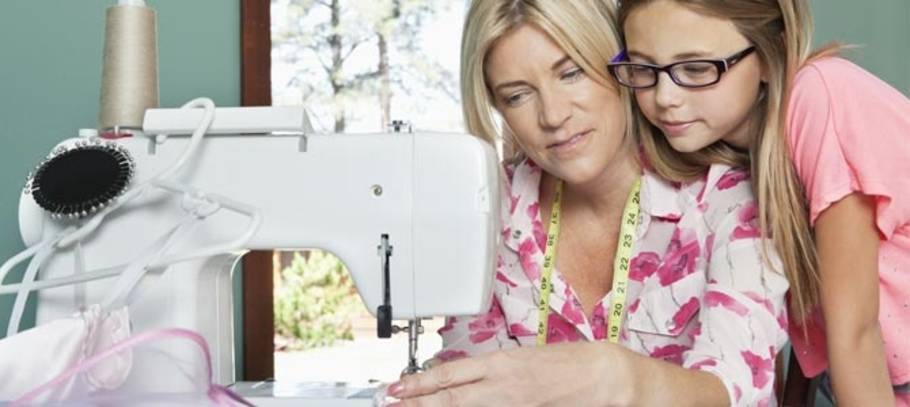 My Grandmother is a craft Artisan. I can recall many great afternoons spent at Grandma's place drinking tea, eating scones and learning how to knit, crochet and sew. While I never mastered my craft skills to my Grandma's level, our crafty afternoon sessions did get me into sewing. I am now passing on this skills to my kids. I know the idea of having your kids deal with needles and a sewing machine would make some of you out there panic. But once you get yourself organised and plan ahead, you'll find endless enjoyment out of sewing with your kids.
Start with simple projects to build confidence
To get your kids used to the concept of sewing and the steps involved, start by introducing them to hand sewing before moving onto machine sewing. There are lots of fun little projects to get your kids used to handling threads and needles, cutting fabrics and following patterns - teach them how to sew on a button or sew a simple party banner.

Let your kids use a real machine
I can understand parents being nervous at the thoughts of letting their kids use a real sewing machine - needles and blood, say no more! If you think your kids are still too young (under the age of 10) to start handling a real machine, it is a good idea to start off with a toy version. However, speaking from personal experience, most kids reach a stage when they start getting frustrated with toy sewing machines because they lack many of the functions of the real machine and most don't tend to lasts for long.

Let them choose a project they'll be passionate about
If you have a tendency of being a perfectionist and fuss over every little details when your kids work on craft projects then it's time to relax. Your kids will probably pick fabric colours that will clash with each other or patterns that won't look good together and what you should do is let them do as they wish. Letting your kids sew something they like will help to grow their passion for the craft

Plan sewing projects ahead
Sewing takes a lot of patience and with the limited attention spans that children normally have, make sure you prepare all the required materials in advance. As your kids grow more accustomed to sewing and gain more confidence, they will also start to get more enjoyment out of their sewing projects. If you're not confident with your sewing skills or are an absolute beginner, enrol in sewing lessons with your kids and learn together.

Set the scene - create a sewing paradise
The space you practice your craft in is just as important as the equipments so create an inspiring and relaxing workspace for you and your kids to sew in. Turn off the TV, mute your cell phone, make sure you and your kids are clear from any possible distraction. Prepare your sewing corner with inspiring sewing books, patterns, beautiful fabrics, a spacious table and comfortable chairs and you're set for an all-day sewing session. Another important factor to note is to ensure the sewing environment is safe for your kids.

Start a sewing play group
Organise a sewing group with parents within your local community, brainstorm for weekly sewing ideas. prepare some tea, coffee and snacks and you're ready to go! This will be a great bonding idea with other parents and kids within your local community. As with all creative craft activities, brainstorming ideas works best when you have more people to engage with.
Thirsty for more craft activities for kids? Look through our ActiveActivities directory for an inspiring list of ideas. Enjoy your first sewing session and take joy in making your first creation with your kids.
Bec Wilson
Bec is a married stay at home mum who spends most of her time sorting out the chaotic lives of her two daughters, Jessica (7) and Tessa (3). When she's not carefully coordinating her kids' outfits, or addressing their notoriously complicated culinary requirements, she likes to share in the busy lives of other parents. After devouring mummy blogs for years, Bec decided to start blogging from her Cape Town home last year. She hopes her experiences will inspire other parents and help them feel less alone when things get tough.