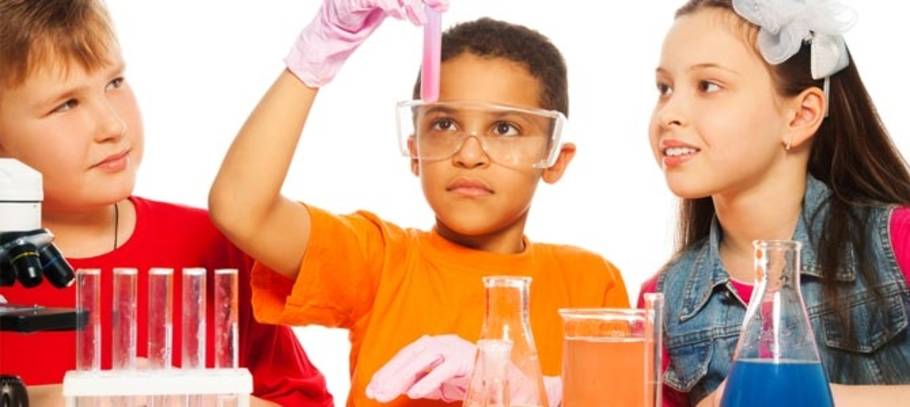 The best way for kids to learn is by doing and experimenting. I am the first to admit that I do not have the brain for science experiments but you don't need to be a science genius to come up with fun science activities for kids. We've come up with 5 easy science projects that you can do with your kids to open up their curious minds and get them thinking about the whys and hows in everyday life.
Nature Colour Hunt
Being out in nature opens up your eyes to the abundance of colours we have available to us in leaves, flowers, birds, rocks... Take your kids out on a nature colour hunt. Before heading out, create a colour wheel for your kids to take on their nature walks. The mission is to find items in nature that match as close as possible to each colour on the colour wheel.

How does it rain?
My kids love to cosy up at home during a rainy day, watching movies and munching on popcorns. When they got curious about where does rain come from, I've decided to do a little 'rain bag' for them. Find a see through plastic bag and have your kids draw a nature scene on the outside of the bag to include a lake, houses, trees and clouds. Fill the bag up with water up to where the drawn lake is and hang it by a sunny window. Now, have your kids watch the magic happens. Water will evaporate to the 'cloud' as the days go by and eventually 'rain' will happen when the plastic bag can't hold anymore water.

Bubble fun
The next time you take your kids out to the playground, you can try preparing some homemade bubble solution with you for some bubbles blowing fun. Experiment with your kids with different bubble solution recipes to find the best formula for blowing bigger and long lasting bubbles.

Rainbow magic
To kids, rainbow is magical and only occurs on special days. Now you can wow your kids by showing them how they can make rainbow magically appear whenever they want. Performing rainbow magic is as easy as taking a piece of paper and glass of water to somewhere with direct sunlight. Have your kids move the paper around when sunlight passes through the glass of water to see different reflections

Homemade volcano
Here's one for the next school science project. Kids love making a mess so why not give them an excuse to create their very own volcanic eruption. There are different ways to create your very own mini volcano. Most of the methods include objects and ingredients that are already available at your home - flour, salt, cooking oil, food colouring, baking powder. The magic ingredient is vinegar to make your volcano fizz and spurt out lava!
I hope you're inspired to think of more fun science kids activities to try out at home, in your backyard or out in nature. Head over to our ActiveActivities directory for more ideas to help keep your child's mind stay curious and stimulated.
Virginia O'Neill
Virginia is a busy working mother to two energetic school-aged children. With the help of her supportive husband, Virginia successfully juggles the dual roles of career woman and loving mother. Virginia is particularly passionate about health and fitness, and is always looking for new ways to keep her children happy, healthy and active. Virginia lives in Joburg and is a veteran blogger of almost 5 years.