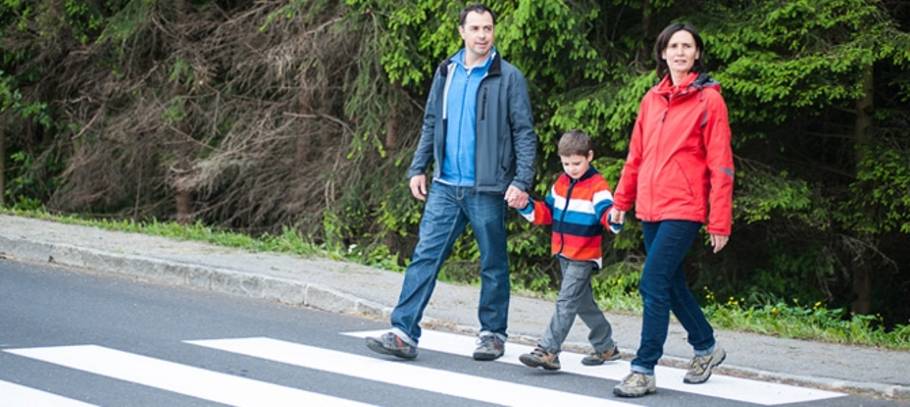 I have a confession to make - I am one of those maniac mom that multi-task like there's no tomorrow and rush through everything in the morning like an headless chicken. Otherwise, how else am I able to ensure that my kids are dressed for school, lunch have been packed for the whole family, drop off the kids to school on time and the list goes on! Well, at the beginning of this month, I've decided to wave goodbye to this crazy routine for 'Walktober' - the International Walk to School Month.
For those of you that are unfamiliar with 'Walktober', it is an official walk that takes place every October around the world that encourages people of all ages to get active by either walking more on their own or compete against other walkers for the highest number of kilometres racked up during the month. For parents, this is the perfect opportunity to slow down our daily hectic routine and walk to school more with our kids.
You can learn more about 'Walktober' through the International Walk to School Month website. Time to slow down and smell the roses!
Get Fit Together and Teach Your Kids Basic Road Safety
Apart from the obvious health and fitness reason of getting my kids involved in 'Walktober', I also wanted to take the opportunity to see how much they know about being on the street on their own. It turned out that my kids have been taught a lot about road safety at school and I was surprised to find myself learning a thing or two from our experience together.
Let me share five effective tips in teaching your kids about simple road safety rules from my 'Walktober' experience:
It takes time to teach these things - be patient and explain in detail

On our first morning walk to the school, I found my boy about to cross the road at a non-pedestrian crossing even though there is a school crossing within short distance to the school's front gate. I found myself lecturing him straight away, saying that he should've known better, only to receive the simple reply, "but there were no cars on the road, mom". This was a wake up call to me that something as simple as "always cross at pedestrian crossings, even where this means an extra walk" may not appear to be common sense to young children.

Lead by Examples

We are all guilty of the occasional jaywalking or crossing the roads without looking both ways but our kids see these kind of behaviours and think that it's fine for them to do the same. Be open with your kids about the consequences of not obeying road safety rules and explain that it is never a good idea to follow adults who are breaking the rules

Make it a fun learning experience

During our morning walks to the school, I would play games like 'I Spy' or Guess the meaning of the road sign' with my kids to help them learn and understand the meanings of all the different traffic and road signs we come across

Watch and listen before crossing

At school, kids are often taught to look both ways and cross the road when there is no car in sight. However, with many vehicles such as hybrids and newer car models, their engines can be extremely quiet so train your kids to watch out for incoming traffics on the road as well as using their hearing to sense whether or not vehicles are around

Make eye contact with drivers before crossing the road

Although this is not always possible with some vehicles being too heavily tinted and too high for your child to see the driver. You should still encourage this habit as it is a great way to assure that the driver has noted your child's presence.
At the end of our 'Walktober' experience, I plan to expand my kids' road safety learning beyond the school paths by taking them on long bike rides. You can do the same by looking up the ActiveActivities directory for a list of exciting bike trails that you can take your kids to!
Bec Wilson
Bec is a married stay at home mum who spends most of her time sorting out the chaotic lives of her two daughters, Jessica (7) and Tessa (3). When she's not carefully coordinating her kids' outfits, or addressing their notoriously complicated culinary requirements, she likes to share in the busy lives of other parents. After devouring mummy blogs for years, Bec decided to start blogging from her Cape Town home last year. She hopes her experiences will inspire other parents and help them feel less alone when things get tough.