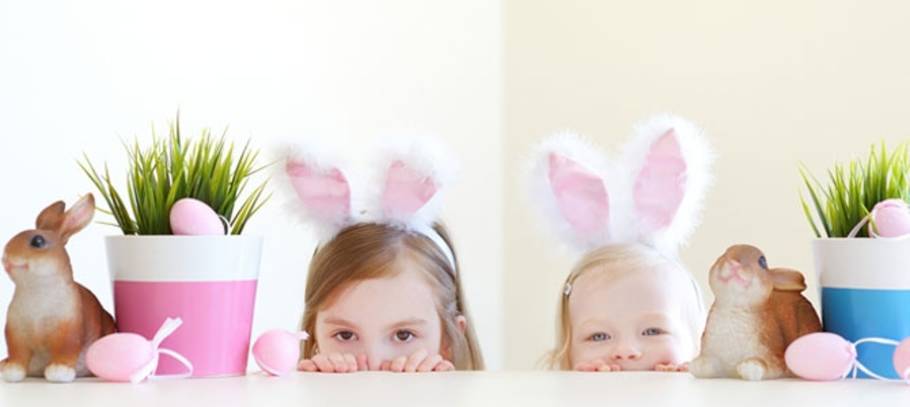 With Easter just around the corner, what have you planned for your family over the Easter long weekend? I have some great tips for you that covers everything from creative to active kids activities for you and your family. Read on and get inspired for a fun filled Easter that goes beyond Easter bunnies, chocolates and Hot Cross buns!
Get crafty
Easter is a great time to get crafty with your kids. Best of all, there are so many fun and creative things your kids can make using what you already currently have at home or with materials that costs next to nothing! Grab some ink pads or prepare some paints and giant rolls of butcher paper to make colourful thumbprint chicks collage. Decorate each thumbprint chick with feathers, glitters, pom poms or whatever you have lying around the house. Egg cup decorating is another fun activity for the kiddies, as I'm sure they'll enjoy having their own egg cup to place their boiled egg on every morning. Be sure to check your local art and craft centres this week as most run their own kids craft workshops over the Easter long weekend.

Host a traditional Easter Sunday meal
Easter is more than just chocolate eggs and hot cross buns. If it's been a while since you and your family have had a nice traditional Easter Sunday meal then perhaps it's time to start the tradition again. There are a lot of great Easter recipes online to get you started. Why not try to bake your own hot cross buns, roast pork, sauteed caramelised fennel and iced lemon curd layer cake.

Easter Egg Hunt
Get your Easter bunny suit ready and prepare the best Easter egg hunt for your kids and their friends this year. Get creative and write down some Easter themed rhythms as clues for the Easter hunt. The hunt can either take place at the intimacy of your backyard or take your kids out to the local parks or beaches for a day of outdoor fun. If you and your kids are not too exhausted from the egg hunt, let the fun continue with an exciting game of three-legged egg race!

Dive into chocolate making
Just like home baked cakes, food always tastes better when it's been made just the way you like it. If you've never tried your hands at making your own chocolates before, Easter is the perfect time to give it a go. Get your kids some Easter themed chocolate moulds and their favourite flavours of chocolates, prepare for your kitchen to get very messy and you're ready to start.

Dive into chocolate making
It is important for our kids to understand the meaning of Easter that's more than just Easter bunnies, chocolates and egg hunts. Regardless of your family's religious background, it is important to educate your children to acknowledge and appreciate the true meaning of Easter, why do we have Good Friday and how Easter was celebrated in ancient days.
Don't forget to stay up-to-date with our ActiveActivities directory for regular updates of fun kids activities. Wishing you and your family a safe and fun filled Easter long weekend.
Bec Wilson
Bec is a married stay at home mum who spends most of her time sorting out the chaotic lives of her two daughters, Jessica (7) and Tessa (3). When she's not carefully coordinating her kids' outfits, or addressing their notoriously complicated culinary requirements, she likes to share in the busy lives of other parents. After devouring mummy blogs for years, Bec decided to start blogging from her Cape Town home last year. She hopes her experiences will inspire other parents and help them feel less alone when things get tough.