Five fun kids friendly activities to do with your family pet - rain or shine!
Go back to list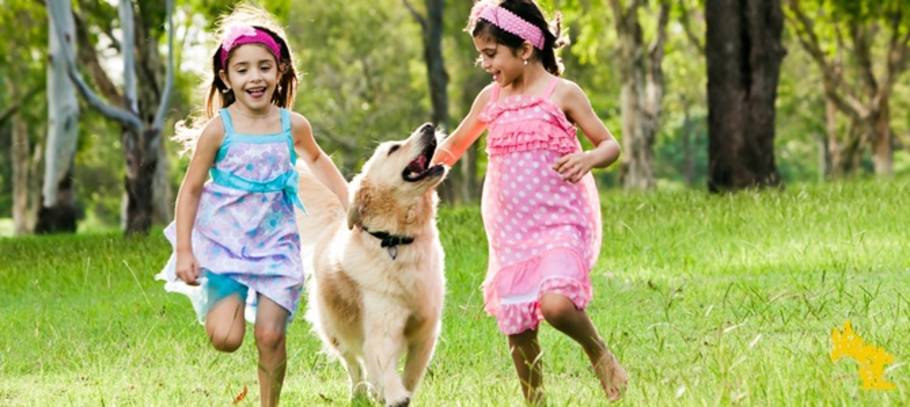 There's a reason why dogs are men's best friend - they're loyal, fun to be with and always there for support and a cuddle when you need them. This also applies for any kid that grew up with a pet in their family. Children who grow up with pets are found to have a better sense of responsibility, compassion and empathy from a young age.
When was the last time you and the kids spent some quality time with your family pet? If it's been a while then make this weekend a fun family pet day out. Here are five fun activities for kids to enjoy with their pet.
Get active together
This weekend, why not consider taking your family pet along with you and the kids to go bush walking. Bush walking is a great way to get the whole family out in nature while giving your family pet the exercise they need. Note that domestic pets are not allowed in national parks but dogs can often be walked on leash in state forests so be sure to do your research beforehand. Remember to keep an eye on your kids and your family pet during the walk to make sure they don't go off the set trail and prepare plenty of water to keep them hydrated throughout the day.

Time to unwind & catch up on some reading
If your family will be enjoying some quiet family time at home this weekend, why not prepare some of your kids' favourite books or perhaps some new additions for them to read alongside the family pet. Sharing a good book with the family pet is a good way for your kids to build up their confidence in reading, as family pets won't be judgmental and they will appreciate the attention your kids gives them - a great way to bring them closer to each other.

Catch some sunshine with a family picnic
Pack a picnic basket, frisbees, balls or anything that your family pet enjoy playing catch with and head to the family's favourite picnic spots. Parks, beaches and lakesides all make great picnic spots with the family pet - places with plenty of space that they can run around with the kids in. One thing to note is to make sure you bring along plastic bags to pick up your pet's litter on the day!

Get socialising with a play date
No one understand the love and care you have towards your family dog/cat than another pet lover! Organise a pet play date where the kids can play together with their pets and exchange pet care tips and just have fun and enjoy each other's company. Try to be creative and come up with ideas for fun kids activities for the play date - something like a rollerblading play date along the beach.

Teach them some tricks!
There's something fulfilling about seeing your pet perform the tricks you and the kids spent hours teaching them to master. Teaching your family pet tricks is a great way to teach your kids about disciplines and patience. Encourage your kids to start with something simple so that they can move onto harder tricks once they've built up their confidence level. Try the basics - how to give a high five and prepare a chair and teach them the 'under, over and through' trick.
Look for more indoor and outdoor ideas on things to enjoy with your family pet at our ActiveActivities directory. Quality time with the family pet bring so much joy to the whole family, don't you agree that you should do it more often?
Bec Wilson
Bec is a married stay at home mum who spends most of her time sorting out the chaotic lives of her two daughters, Jessica (7) and Tessa (3). When she's not carefully coordinating her kids' outfits, or addressing their notoriously complicated culinary requirements, she likes to share in the busy lives of other parents. After devouring mummy blogs for years, Bec decided to start blogging from her Cape Town home last year. She hopes her experiences will inspire other parents and help them feel less alone when things get tough.