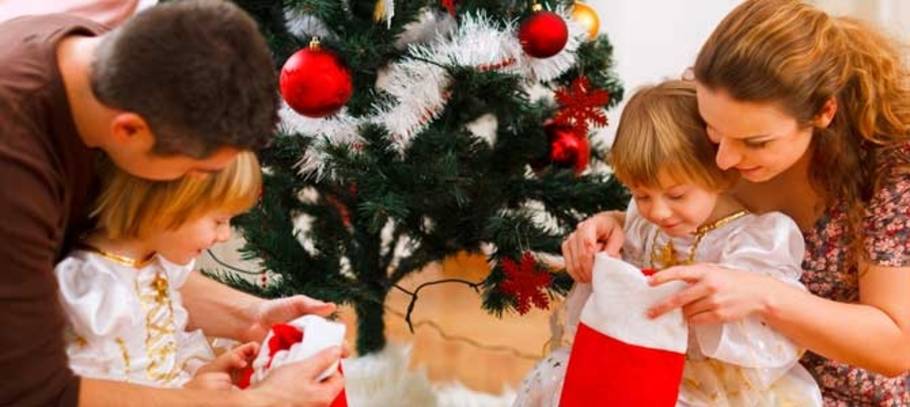 Whether your family is religious or not, Christmas is a time to reflect, to show gratitude to those that have been good to you during the year and to acknowledge the importance of your family. I don't want my kids to grow up thinking that Christmas is just about eating a lot of Christmas pudding, playing Playstation all day at home and being spoiled with presents. This festive season, we should all aim to teach our kids the true meaning of Christmas - showing gratitude, compassion, empathy and learn the joy of giving to others. Let's get started!
Tis the season to be thoughtful
In previous year, the hubby and I would write typical messages in the christmas cards we plan to send out to family and friends and sign on behalf of our kids. But this year, we've decided to do something different. Everyone appreciates getting personalised message - message that's been written just for you. This year, we wrote each christmas card together as a family. Each member of the family took turns to write a message to show why we're grateful to the person we're writing to. Our kids decided to put some creative flair into each cards by decorating them with stamps, stickers and ribbons.

When it comes to the day of the family Christmas feast, make sure you and your family take the time to go through all the thoughtful messages in the christmas cards you've received.

Hand Made with Love
Most kids today understands that money is important because it can buy them lots of clothes, toys, whatever they want. As the saying goes "the best gifts in life are things that money can't buy". Encourage your kids to make arts and crafts gifts for family and friends this Christmas, instead of giving them pocket money to go shopping. Explain to them that the key is to be thoughtful and make something that they think the person receiving it will like. If Grandma and Grandpa likes chocolate chip cookies, help your kids to whip up a few batches of the cookies and place them into decorated jars and top it off with a big red bow.

What your kids really want for Christmas?
End of the year is the perfect time to start new family tradition. Have the whole family involve and have each person think about what they think your family should do more of in the coming year. Need to spend more time outdoor? Organise outdoor camping trips and picnics in the parks. Your new family tradition could even be something as simple as reading bedtime stories to your kids every night.

Learn the Joy of Giving
The festive season is not just about receiving gifts, it is about giving and reaching out to those in need and less fortunate. Find out how your family can get involve in voluneering activities within your local community. Organisations such as the Australian Red Cross and The Salvation Army both have fantastic Christmas appeals to help those less fortunate during Christmas.
If your Christmas wish is to spend more time with your kids doing fun activities, then make sure you head over to our kids activities directory for inspirational ideas. Merry Christmas to you and your family!
Claire Dundreee
Claire, a hands on mother with two young girls and a baby boy, has been blogging for 2 years. Having grown up in an artistic family, Claire is delighted that her daughters have inherited her creative streak. Painting, drawing, and pottery are regular activities in the Drundree's Durban home, which also includes Claire's very patient husband. Claire understands not all mothers have as much time with their children as she does, and hopes her blogging can help busy mums find quick and easy ways to get creative with their kids.